Preface and Author's Artwork
Duane K. McCullough
---
---
ISLANDS OF THE BAY
by Duane K. McCullough
is a simulated 2-hour nature tour of Florida Bay aboard a 20 foot inflatable boat from a bayside resort in Key Largo.

As captain of the boat for about six years, Duane has captured the experience of his tours in words and pictures that is informative and entertaining. The subjects presented in this virtual adventure story are based on facts and personal experiences that cover a wide range of scientific topics such as how biological plant and animal life are related to geological and hydrological subjects.

Also presented are new Archeological and Anthropological concepts from a couple of other book projects Duane has authored over the last three decades. So, prepare yourself for an unforgettable experience as we discover the wonders of nature in Florida Bay.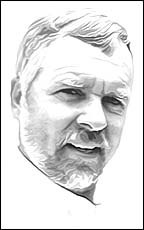 Duane K. McCullough
is an artist, author and retiered license captain that once lived in the Florida Keys for three decades. As director of the several online websites active in new historical research and artistic imagery, he has compiled many unique concepts about the natural history of southern Florida and other unique environments related to the area.

Working as a nature tour guide and captain from a bayside resort in Key Largo for several years, Duane began writing Islands of the Bay in 2004 and decided to self publish the story to the Internet in 2011. He now lives with his wife Cynthia in the mountains of Western North Carolina.

AUTHOR'S ARTWORK and PHOTO CREDITS
In 1983, while living aboard his sailboat in the Florida Keys, Duane painted on canvas a surrealistic scene of many types of local birds playing around a mangrove tree in Florida Bay. Like this painting, this book project is an attempt to capture the spiritual essence of Florida Bay and reveal nature's wonders with personal knowledge of the realm.

All artwork and photos were created by the Author.
---
Return to the Islands of the Bay Coverpage
Return to the Lost Fountain website