spiritofatlantis.com | Duane K. McCullough
---

---
---
Doodling Artwork
By Duane McCullough
The above image is a sketch of some "doodling" I did while attending art classes at Miami Dade Community College in 1974.

It depicts an abstract view of someone on the phone while "doodling". Full of unrelated viewpoints from reality within a greater reality environment, this artwork was fun to draw because it tested the limits of my imagination without restrictions.

It is a good example of "super-realistic" artwork -- or surrealistic artwork, where realistic views exist within an unrealistic environment.
---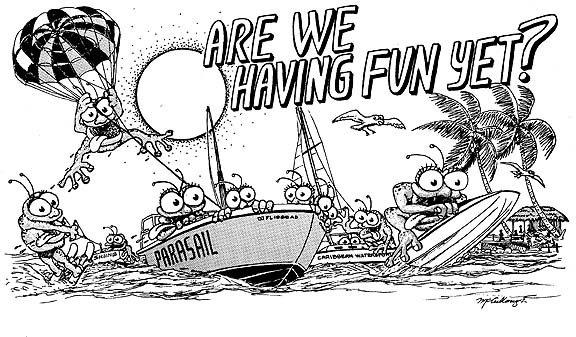 This image was used as T-shirt artwork for the family business back in the '80's. Caribbean Watersports of Key Largo Florida still offers lots of fun on and over the water -- even bug-eyed frog-like people can have fun under the sun there.
---