spiritofatlantis.com | Duane K. McCullough
---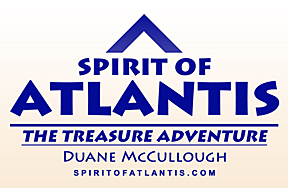 SPIRIT OF ATLANTIS
The Treasure Adventure
by Duane K. McCullough
---
WELCOME TO THE SPIRIT OF ATLANTIS WEBSITE

This website includes the latest version of my Spirit Of Atlantis book project -- together with
links to some of my personal data. There is also a link to my Atlantean Communication page --
which contains links to relevant data about the book project and a record list of interviews with
myself as the author.

Visitors to this website are encouraged to have an open mind regarding the many new theories
about the subject of Atlantis. If anyone cares to help in the research or have any comments
concerning the data within this book project, please email me at duanemcc@comporium.net.

A link to my Outside Links page in the upper right area of the main page will reveal many
Internet links I have found interesting over the years.

If visitors would like to support my reseach work, please feel free to visit my website at:
duane-mccullough.pixels.com
and explore my artwork for sale. I have over forteen-hundred images that look great on walls,
home decor itmes and many other objects we use every day.

I also have a YouTube website where visitors can examine my artwork & theories and leave
comments.
Duane McCullough at YouTube

Thank you for your time -- and take care.

---